Mangaka: The Game of Drawing Comics (and KrakenCon!)
on
November 16, 2016
at
7:52 pm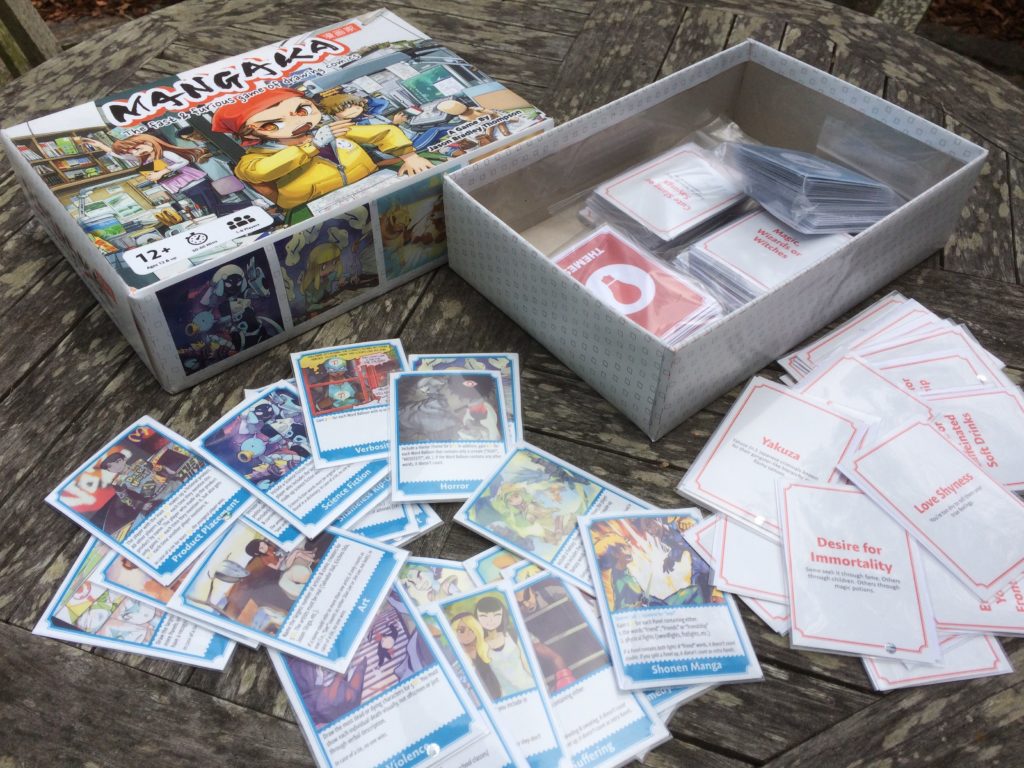 Happy upcoming holidays! The big news right now is that our game, Mangaka: The Fast & Furious Game of Drawing Comics, is FINALLY AVAILABLE! Our warehouse is filled with boxes of Mangaka 6 feet high, and we've fulfilled nearly all of the Kickstarter pre-orders!
Needless to say, this game is totally excellent and is a great gift for a creative friend or family member (ages 12 and up)! You can get Mangaka here from the Mock Man Store, including the 12-card bonus expansion "Decadent Heart!" If you're a retailer and you're interested in carrying Mangaka, go here to buy the game wholesale from our great partners at Japanime Games/Global Games Distribution.
The other big news is, I'm a guest at KrakenCon this weekend at the Oakland Convention Center in Oakland, California! This is a super fun convention I've attended before, and I strongly recommend going to the whole thing. We'll be in the exhibit hall Friday through Sunday with copies of Mangaka. Plus, I'll be doing two Mangaka demos and three panels!!
***********************
MY KRAKENCON SCHEDULE
SATURDAY 11/19
12:15-1:15 pm
Best & Worst Manga of 2016 (Room 208)
We all have our own picks for the best and worst of everything and manga is no different. Join Jason Thompson, Evan Minto (AniGamers, Otaku USA) and Shaenon Garrity (Skin Horse, Otaku USA) as they look back on a year of great (and not so great) manga!
3:30-5:00 pm
Mangaka Demo (Card Gaming Area, Exhibit Hall)
Come playtest Mangaka and see what the excitement and speedlines are all about!
8:30-9:30 pm
The Scariest Manga Ever Made (Room 203)
Manga can be beautiful but can also be scary. Jason Thompson is here to guide you into the dark side of the art exploring just what makes something creepy. Gaze into the dark worlds of Hideshi Hino, Kazuo Umezu, Kengo Hanazawa and many other terrifying artists!
SUNDAY 11/21
11:30 am – 1 pm
Mangaka: The Fast & Furious Game of Drawing Comics! (Room 208)
Do you have what it takes to be a master mangaka? Jason Thompson is here to help you find out in a live play session of Mangaka: The Fast & Furious Game of Drawing Comics on the BIG SCREEN! Step up and draw to be the best, or join in the audience participation and decide what Trends the artists must deal with! Compete to win great prizes and have a good time!
3:00-4:30 pm
Mangaka Demo (Card Gaming Area, Exhibit Hall)
Another chance to play Mangaka in a casual environment before the convention ends! Come check it out, play, and take home a wild comic of your own creation!
***********************
What else has been going on?
* My homebrew D&D class, the Priestess, is up on DM's Guild featuring beautiful cover artwork by Konstantin Pogorelov. At $2.99 it's a steal! Check it out and use it in your games!
* Speaking of RPGs, I've been drawing new art for Wizards of the Coast, which you can see on Wizards' Dragon+ magazine app, or on the web at dragonmag.com. I've also done some artwork for Lamentations of the Flame Princess, of which I'll be posting samples on Twitter (like most of my art) when the adventure is available for sale.
* And I'm almost done with the Map of Alien Invaders, which just has to print and go out to the many Kickstarter backers who made it possible. Thanks for all your support!
In addition, as usual, I'm working on some can't-announce-them-yet projects… but more about that later. See you at KrakenCon, and please spread the word about Mangaka!!