on
November 17, 2017
at
7:41 pm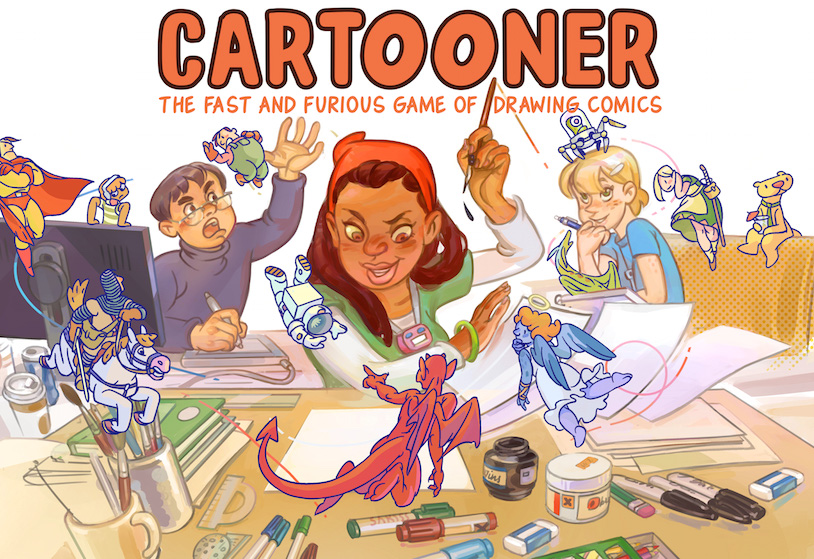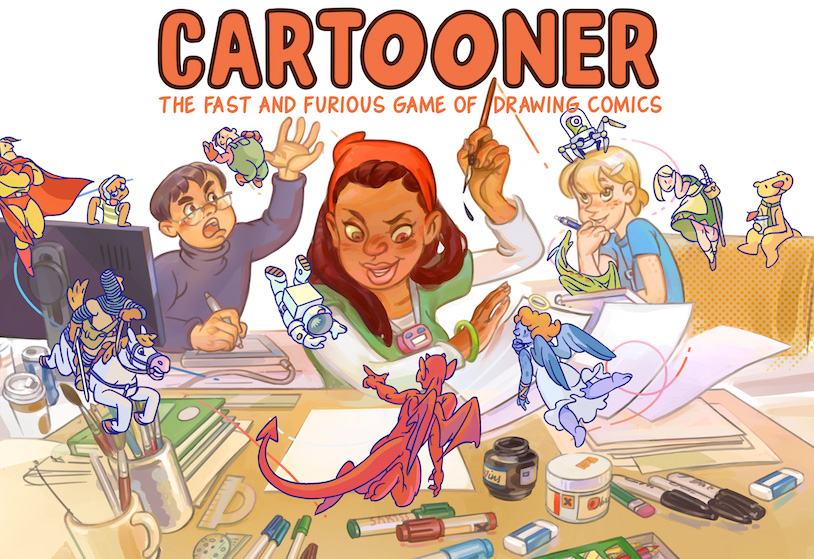 What's that?? Art on the top of this page that's not by Jason?! Yes, it's true! The illustration above this text is drawn by my friend, Konstantin Pogorelov. It's the front cover of our new game Kickstarter, Cartooner!
What is Cartooner? The simplest and most pleasant explanation is to watch the video on the Kickstarter page. Cartooner is a tabletop drawing/card game where players compete for Fame by creating comic stories over 4 rounds, 5 minutes per round. If you've seen our previous drawing game "Mangaka," Cartooner uses very similar rules — in fact, Cartooner is a standalone expansion to Mangaka that's completely backwards-compatible. You can play either game by itself, or by combining the two games, you can mix the Themes, Trends and tropes of the two comic traditions.
On a personal level, Cartooner is a collaborative project by myself and my wife, Jumana Al Hashal. As codesigners, we worked to streamline Mangaka and make an even better game using the same basic framework which we'd developed over six years of playtesting. When we were designing Mangaka, people would sometimes say "Why don't you just make it about American comics?" and so we took that as a challenge: to use the great gameplay of Mangaka with a new set of cards and pop culture tropes. Some of the new Cartooner cards are based on American pop culture Trends, such as Noir, Mystery, Medical dramas, Funny Animals or Superheroes. Others are cards we could fit in Mangaka but that we've conceived and polished over the extra years of testing: cards like Nature, Monsters, Fighting, Disaster and many more. All these are potential ingredients in the stories you'll tell in Cartooner, and all are illustrated beautifully by the amazing Konstantin Pogorelov!
The reason I love Cartooner is the same reason I love roleplaying games: I like games where players can be creative and truly make original things. (As opposed to those games where you just recombine preprinted stuff on preexisting cards and pretend it's funny… aaahhh, I'm gonna keep this positive! >_< ) Cartooner is the enhanced, even-better version of Mangaka, and you should try it out! Our Kickstarter runs till 12/16/2017. Please support our Kickstarter and bring this game to life!